Subscribe to our Facebook Bot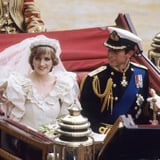 Princess Diana and Prince Charles got engaged in February 1981 after only going on 12 dates. They wed five months later in a lavish ceremony at St. Paul's Cathedral in London, and their wedding was watched by millions around the world. Despite separating in 1992 and Diana's untimely death in 1997, there are probably still a few things you may not know about their wedding, like the fact that Charles reportedly cried the night before their big day. Read on for even more interesting tidbits.
Read more
---
Join over 5000 Subscribers!
Get latest News, Widgets, Apps and much more straight into your INBOX for free. Just Enter your email address, Verify and join our Newsletter!