Subscribe to our Facebook Bot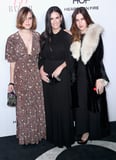 Demi Moore turned Harper's Bazaar's 150 Most Fashionable Women event in LA into a family affair on Friday night. The 54-year-old actress arrived in style with her two daughters, 22-year-old Tallulah and 25-year-old Scout Willis, whom she shares with ex-husband Bruce Willis. The trio looked all kinds of cool in matching floor-length gowns and served up some serious face while posing for pictures. Even though their older sister, 28-year-old Rumer, wasn't in attendance, she did share an Instagram snap of herself FaceTiming with Scout earlier in the day, writing, "Morning FaceTime chat with my ride or die Icarus and of course my beauteous seestra @scoutlaruewillis." We just can't get enough of this family's close bond!
Read more
---
Join over 5000 Subscribers!
Get latest News, Widgets, Apps and much more straight into your INBOX for free. Just Enter your email address, Verify and join our Newsletter!