Subscribe to our Facebook Bot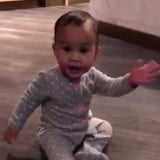 My beautiful love has no idea. pic.twitter.com/zNvlatL1Jm

- christine teigen (@chrissyteigen) January 21, 2017
Just when you thought John Legend and Chrissy Teigen's daughter couldn't get any cuter, she goes and proves us wrong. After tweeting about an awful encounter that she and John had with a photographer in NYC and unleashing a tweetstorm on Donald Trump, the cookbook author switched things up and shared a video of little Luna waving on Twitter on Friday. "My beautiful love has no idea," she captioned the adorable clip. Chrissy is one of the many stars hitting the streets on Saturday to support the Women's March on Washington.
Read more
---
Join over 5000 Subscribers!
Get latest News, Widgets, Apps and much more straight into your INBOX for free. Just Enter your email address, Verify and join our Newsletter!