Subscribe to our Facebook Bot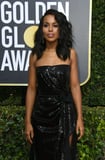 Kerry Washington made a stunning appearance at the Golden Globes in LA on Sunday. Clad in a black strapless dress, the Scandal star was joined by her husband, former football star, actor, and producer Nnamdi Asomugha, who proudly sported a Time's Up pin on the lapel of his suit; Kerry is one of the actresses at the forefront of the recent Time's Up campaign, which aims to combat sexual harassment and assault in the workplace. Kerry joined fellow A-listers Reese Witherspoon, Tracee Ellis Ross, Rashida Jones, and Brie Larson in an Instagram video announcing why they were planning to wear black to the event.
Kerry and Nnamdi don't make joint appearances very often, which is why it's so great to catch a glimpse of them together. They tied the knot in 2013 and welcomed daughter Isabelle the following year. In October 2016, Kerry gave birth to the couple's son, Caleb.
Read more
---
Join over 5000 Subscribers!
Get latest News, Widgets, Apps and much more straight into your INBOX for free. Just Enter your email address, Verify and join our Newsletter!