Subscribe to our Facebook Bot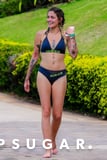 Paris Jackson has been soaking up the sun with her family in Hawaii over the last few days, and on Christmas Day, the 19-year-old put her toned and tattooed body on display when she hit the beach in a Calvin Klein bikini. Paris, who is the only daughter of the late Michael Jackson, appeared to be in good spirits as she walked along the beach and snapped photos with a friend. Paris has also been documenting her trip on Instagram and posted a photo of herself playing on a tree on Tuesday, writing, "feet always dirty in my calvins."
It's shaped up to be quite the year for Paris; not only did she reportedly sign a major contract with Calvin Klein in May, but she also signed with IMG Models and landed her first movie role in the upcoming action drama Gringo alongside Charlize Theron. We can't wait to see more of Paris in 2018!
Read more
---
Join over 5000 Subscribers!
Get latest News, Widgets, Apps and much more straight into your INBOX for free. Just Enter your email address, Verify and join our Newsletter!