Subscribe to our Facebook Bot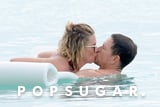 Mark Wahlberg is currently enjoying some quality time with his family during their annual trip to Barbados. On Thursday, the actor showed off his chiseled abs when he hit the beach with his wife, Rhea Durham, and the two showed some steamy PDA while out in the water. Mark donned a pair of colorful turtle-print swim trunks while Rhea kept things sexy in a lavender bikini.
Mark and Rhea have been married for almost a decade now and have four kids together, daughters Ella, 14, and Grace, 7, and sons Brendan, 9, and Michael, 11. Most recently, Mark made fans extra jolly when he shared his family Christmas card on Twitter. We just have one question: can we join this family?
Read more
---
Join over 5000 Subscribers!
Get latest News, Widgets, Apps and much more straight into your INBOX for free. Just Enter your email address, Verify and join our Newsletter!